SEDEINGA

Some Meroitic texts mention gods, dignitaries and priests of Atiye. According to Audran Labrousse, Atiye perpetuates the name given by the Egyptians of the New Kingdom to a place called Hut Tiy (hwt Tiy), the temple of the queen Tiy. Today it is still called Adeye (Atiye) or Sedeinga.
The site includes:
- the remains of a sanctuary for the sovereign Amenhotep III and his spouse, the queen Tiy (c. 1391-1354 BC),
- a large Napatan and Meroitic necropolis (VII Century BC to V Century AD)
- a Christian settlement (VII to XII Century AD)
According to the pre-historian Jacques Reinold, Sedeinga has Neolithic remains. A large necropolis extends for almost a kilometre from north to south, to the west of the Temple.
The temple of the queen Tiy (Hut Tiy)
The excavations of Michela Schiff Giorgini began in 1963. In an area that today is desert, it is no more than a mass of blocks of sandstone with a single column standing, with a Hathor capital. The grooved shaft carries the name of the queen on two sides.
The Hut Tiy is associated with that of Soleb, which is located about 15km further south. Mid-way between them, the speos of Jebel Docha, a rock-cut sanctuary in a mountain by the banks of the Nile, attests the Egyptian presence since Thutmose III.
The investigations of the French Archaeological Mission of Sedeinga confirm that no other structure was erected before the Hut Tiy. The temple is orientated east-west and seems to have been preceded by a colonnade. According to the drawings of R. Lepsius, the hypostyle hall included sixteen columns with Hathor capitals. At the rear, towards the west of the hypostyle hall, a door would have led to the antechamber that gave access to three sanctuaries.
According to Audran Labrousse, the iconography of the reliefs seems to be in accord with the rise to power and the coronation of the sovereign Amenhotep III.
The lintel of the door that led from the vestibule to the hypostyle hall is unique. The publication by E.A. Wallis Budge in 1907, shows in the upper register the queen Tiy with the body of a lion in a walking attitude and a human face wearing a modius (circular head decoration sometimes with a crown superimposed) similar to that worn by the queen Nefertiti. The lower register is decorated with three cartouches on which are superimposed feathers of Maat: the name of the queen is surrounded by those of Amenhotep III (Neb Maat Ra). Among the blocks there are two scenes of the ritual race of the king which bring to mind the feast of Heb-Sed.
As at Soleb, the god Amun and the deified king Amenhotep III are worshipped. The queen is associated with this cult in the form of the goddess Hathor.
During the Napatan and Meroitic periods, it is perhaps in the Hut Tiy that the goddess Isis and the god Horus are worshipped.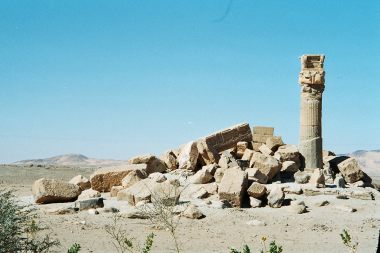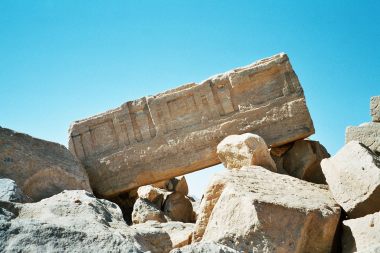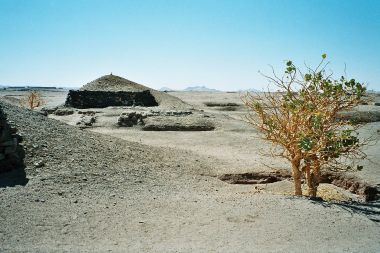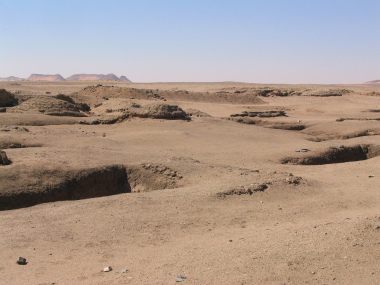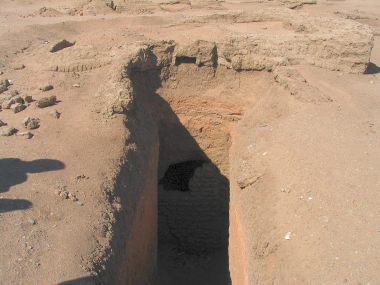 Ruins of Sedeinga temple situated in the northern part of Soleb. It is dedicated to the queen Tiy who is therefore associated to the divin nature of her husband Amenhotep III / Ruines du temple de Sedeinga situé à une quizaine de km au nord de Soleb. Il est dédié à la reine Tiy qui est ainsi associée à la nature divine de son époux Amenhotep III
Architrave of the antique Sedeinga temple with the cobras, symbol of protection (apotropaic function) / Architrave de l'ancien temple de Sedeinga avec les cobras dressés, symbole de protection (fonction apotropaïque)
View over the napatean cemetery in the western part of the Sedeinga temple / Vue sur la nécropole napatéenne à l'ouest du temple de Sedeinga
Napatean cemetery situated in the western part of the temple of Sedeinga / Nécropole napatéenne située à l'ouest du temple de Sedeinga
Grave of the napatean cemetery of Sedeinga. On the front rank : the stairs leading to the funeral rooms. On the surface : ruins of the offering chapel and the pyramid-shaped structure / Tombe de la nécropole napatéenne de Sedeinga. En premier plan : la descenderie qui conduit aux salles funéraires. En surface : les arasements de la chapelle d'offrande et de la structure pyramidale